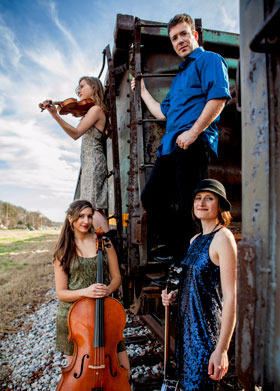 Memphis Acoustic Music Association

presents



Harpeth Rising



Saturday, April 27, 2013     8 pm
Otherlands Coffee Bar 641 S. Cooper St.
Tickets: $12 at Otherlands and The Booksellers at Laurelwood


With a banjo and fiddle, you might think they're traditional bluegrass, but think again: cello and hand drums round out the group, creating a truly new sound. With a little bit bluegrass, a little bit folk, a little bit classical and whole lot of original, Harpeth Rising brings an exciting and totally distinctive sound to the Americana genre.

This group of four young classically trained musicians is making an immense impact wherever they play. Rebecca Reed-Lunn on banjo, Jordana Greenberg on violin, Maria Di Meglio on cello and and Chris Burgess (currently artist-in-residence at the Memphis Drum shop) on percussion met while pursuing classical music degrees at the Jacobs School of Music in Indiana.

Harpeth Rising recently returned from a tour of the UK, where they were acclaimed as "absolutely fabulous", "brilliant" and "…some of the best three-part harmonies we've heard…" They were invited to the illustrious Cambridge Folk Festival in Summer 2011. Additional recent accomplishments include being voted 'Best Local Band' in Nashville, Tennessee, appearances on the critically acclaimed shows "Music City Roots," and "Nashville Traditions" and successful US tours of the Midwest, South, and Northeast.

http://www.harpethrising.com 

www.sonicbids.com/harpethrising

www.airplaydirect.com/harpethrising


This concert is underwritten by Eileen Huey in honor of her grandson, Zachary Ray McElwain.   Thank you, Eileen!

---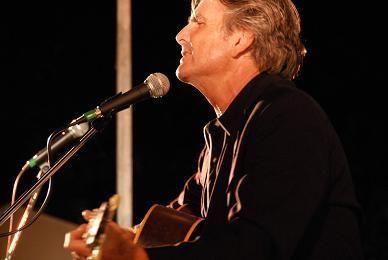 The Memphis Acoustic Music Association
presents
Spencer Bohren
Otherlands Coffee Bar 641 S. Cooper Memphis TN
Friday April 5    8 PM
$12 (Students $6)
Tickets are at Otherlands and The Booksellers of Laurelwood
901 278-4994
Mamamusic.org
MAMA celebrates the return of one of our most-loved musicians, Spencer Bohren,
for his first MAMA concert in over two years.

Spencer Bohren's music resonates with the ambience of the rivers, roads, and bayous of the American South. He has a marvelous gift for animating America's wealth of traditional folk, blues,gospel and country music with respectful renderings of the music and spellbinding stories.

But that's not all . . .

Woven through the fabric of a Spencer Bohren performance are his original pieces, teeming with echoes
of the traditional music he loves, accompanied by a superlative mastery of an assortment of vintage guitars, lapsteels and banjos. The atmosphere of New Orleans subtly informs each performance.

And that's still not all…

Not only is he an acclaimed musician; Spencer's talents in art and storytelling are increasingly in demand.

The National Storytelling Festival in Jonesborough invited Spencer to share his stories in 2011,
and the Tennessee Arts Commmission, ArtsMemphis, and the Memphis City Schools
brought Spencer to Memphis in January of this year to teach art workshops and perform "Down the Dirt Road Blues,"his award-winning music/oral history of American roots music to students from ten schools. (See "Grants" on our homepage for more of this wonderful story.)

Thousands of young people in the US and in Europe have gained a huge appreciation of "roots" music from Spencer's "Dirt Road Blues" performances.

"Impeccable slide playing, atmospheric lapsteel . . . sheer bliss!" Folk Roots

"...is a living repository of American music."   Plain Dealer, Cleveland

"...is more than just a musician, he's also a master storyteller."
Times-Picayune, New Orleans

"....is the best solo act in the business!"
Tucson Blues Society

Go to 
Spencerbohren.com
 to see why Spencer is one of our favorites, and don't forget to read a bit of his history on the road for 8 years in an Airstream trailer with 3 young children and his incredibly efficient wife Marilyn booking gigs from a phone booth in the days before cell phones and the internet.
---
---
MAMA presents
internationally acclaimed teaching artists



Choro das 3



Wednesday, July 10, 2013
~ workshop 1:30-3:30pm / concert 7 pm ~
First Congregational Church

---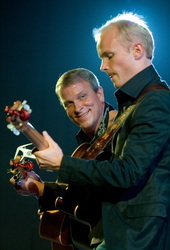 The Memphis Acoustic Music Association
presents
The International Guitar Duo
Loren Barrigar and Mark Mazengarb


Saturday, August 10, 2013       8 pm          $12

Otherlands Coffee Bar          641 S.Cooper

Memphis TN         901 278-4994

Tickets go on sale July 22 at The Booksellers at Laurelwood, Otherlands, and online at
http://internationalguitarduo.eventbrite.com
Free download:  
http://www.nimbitmusic.com/lorenandmark/promos/PROMO_7730_email
T
he astounding International Guitar Duo returns to Memphis for their second concert for the Memphis Acoustic Music Association.

New Zealand's Mark Mazengarb and New Yorker Loren Barrigar first met in 2005 at Jorma Kaukonen's Fur Peace Ranch guitar workshop, working with Australian guitar master Tommy Emmanuel. Mark was just completing his degree in classical guitar at the University of North Carolina and Loren was already established in New York, but they instantly recognized the strength they had as a guitar duo. . They attribute Emmanuel, Chet Atkins and Jerry Reed as their biggest influences and have performed often with Emmanuel, who says of the duo, "Fresh and exciting… these guys ROCK!"


Their varied repertoire consists of stunning guitar duets as well as songs and ranges from jazz to bluegrass and country, and if you like the thumb-picking techniques pioneered by guitar greats Chet Atkins, Jerry Reed, and Les Paul, you will be in music heaven.

Their first album won the 2011 SAMMY (Syracuse Area Music Award) for Best Album and their latest album, Onward, was released last August.


www.lorenandmark.com

videos     
http://vimeo.com/51718023
http://www.youtube.com/watch?v=Ebk7-b41cM4
http://www.youtube.com/watch?v=2VrQJXtUkxg

Thank you, Kathy Story and Bob Neimeyer, for hosting Loren and Mark!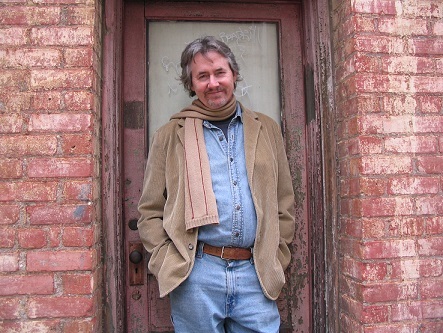 MAMA is thrilled that word has apparently gotten out about the music we bring to Memphis….9 of our last 10 shows were standing room only or very close to it….thank you for coming and spreading the word about what we are doing! Hope you've found your photos on mamamusic.org.
Nearly 200 of you came to hear the Brazilian group Choro das 3 on a weeknight, so we know that you will come even on a weeknight for something special….and do we ever have a special concert on Tuesday, September 24th!
MAMA presents Irish musician/author Danny Ellis
7-9 pm  Sept 24, 2013   at Just for Lunch  3092 Poplar  

Danny Ellis was a survivor, strong and resilient. A successful singer/songwriter, he'd 'handled' his painful past: the grinding poverty of the 1950s Dublin slums and the brutality of the orphanage, the notorious Artane Industrial School . He'd safely buried it. Or so he thought.

Then one night, while writing a powerful song that would launch his acclaimed album, 800 Voices, his past came flooding back to haunt him. Long-forgotten memories of betrayal and abandonment burst forth in a shocking revelation: his eight-year-old self was still lost in the orphanage.

Although badly shaken, Danny began a courageous journey that would lead him back to the streets of Dublin, to the tenement slums and, eventually, to the brutality and scallywag shenanigans of the Artane playground. What he found with each twist and turn of his odyssey would change his life forever.

His book, The Boy at the Gate, is a poignant, profoundly moving memoir of forgiveness and redemption, and an inspiring testament to the healing power of music and love.

Not only did he write a book, he also wrote songs. This is what people say about his album, 800 Voices:
"There are those rare musicians that are also poets and storytellers who can bend time and space and language so it penetrates into the deepest places of the human soul. Danny Ellis is one, and his music has shattered and embraced me with the severe grace." William Paul Young, author of
The Shack


800 Voices is a searing testament to the resilience of the human spirit and the depths to which that spirit can sink... A musically healing and lyrically breathtaking debut." The Irish Times

"The sheer musicality of the songs, together with his unique ability as singer and interpreter made a very strong impression on me. I welcome his 800 Voices, a touching autobiography and a visionary outlook." Bill Whelan, Riverdance Composer

"It may just be the most powerful storytelling through music and stories I have ever experienced. ...a riveting oral memoir ...filled with clear images of pain, hope and humor." Connie Reagan Blake, Storyteller



We are delighted to join with Just for Lunch for this concert. The restaurant (inside Chickasaw Oaks shopping center at 3092 Poplar) will open for dinner at 5:30 but there will be no table service once the concert begins at 7. Call 454-0755 for reservations or email Justforlunch@bellsouth.net.  D
uring the concert,  "s
mall plates" will be available inside  which you can take to your tables. There will be no wine, but you are welcome to bring your own… no corkage fee. The shopping center will be closed, so come to the west entrance…facing the library.


Danny will be at the Booksellers at Laurelwood for a booksigning on Monday, Sept 23 at 6 pm and on Channel 3's Live at 9 on Tuesday morning, Sept 24.
mamamusic.org dannyellismusic.com
http://www.youtube.com/watch?v=M-X5cCoicCU