Memphis Acoustic Music Association
presents
Choro das 3
Wednesday, July 10, 2013, 7 pm
First Congregational Church
We've all heard Brazilian music, right?
Bossa nova...        Carmen Miranda...        Samba!

But the music that gave rise to all of these is

~

Choro

~

..the first Brazilian urban music.

Choro - the musical melting pot of 19th-century Rio.
Choro - the earthy, sophisticated, humorous, daring, joyous soul of Brazil.
Choro - a living tradition, enjoying a worldwide renaissance.


Memphis has never seen authentic choro played live.
How do you say it?    SHOH-roo.
What kind of music is this?

Choro blends "the influences of the European court music, West African rhythms, American jazz, Eastern European polkas and Klezmer music, Italian mandolins, Russian 7-string guitars, and marching band music..."
(Jovino Santos Neto)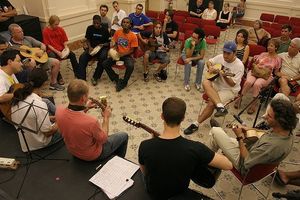 Choro developed as an almost purely instrumental style.
All-night jam sessions, called rodas de choro, became common in the early 20th century.
At these gatherings, the players formed an almost spiritual connection with their music.
To be accepted at the rodas, musicians had not only to play well,
but also to understand the essentially improvisational language of choro.

Now MAMA is delighted to bring this music to you!

Choro das 3
is a Brazilian trio formed in 2003 by 3 sisters, then aged 10-15,
from the state of Sao Paulo.

Despite their youth, sisters Corina, Lia and Elisa have amassed an amazing number of achievements. They have played for audiences large (over a million) and small, for President Lula da Silva, and for a major Brazilian television show akin to our Late Show with David Letterman. They've garnered numerous national awards in a country that takes its music VERY seriously, performed for audiences in Europe and Japan - and are now headed to the US for their first tour of North America, including a week-long teaching residency at the
Mandolin Symposium
. Choro das 3 released their debut CD in 2008, entirely recorded, produced and mixed by the sisters. They followed this critical success in 2012 with

Escorregando
, and by the time we see them, their newest CD, Boas Novas (Good News), will be released.

Most people who have a relationship with this deliciously intriguing genre will tell you
that to get any real sense of choro, one must actually see it performed live.

Memphis Acoustic Music Association presents

Choro das 3 in Concert
Wednesday, July 10, 2013, 7 pm
First Congregational Church, 1000 S. Cooper St., Memphis
$20 adult / $10 students
Ticketed patrons are invited to join us from 6:15 to 6:45 pm
for wine and Pão de Queijo (Brazilian Cheese Bread).


 ~ Want to learn about PLAYING choro? ~


Join Choro das 3 for an
Afternoon Workshop
!

1:30 - 3:30 pm at the church

Musicians of all ages and on all acoustic instruments are welcome!
$25


Please click the links above or the buttons below to buy your tickets for the concert
and/or register for the workshop.
If you have questions about the workshop, please email mamamusicorg@gmail.com.


Concert tickets can also be purchased beginning June 1
at The Booksellers at Laurelwood*, or at the door.

*tickets purchased at Booksellers will all be sold at the $20 level,
but those under 18 will receive $10 back from MAMA with ID presented at the event.
We look forward to seeing you there!
WORKSHOP ($25): Held in the church classroom area.
  Enter through the red door by the playground (rear of church, Blythe Street entrance).
Register by credit card online or with cash only at the door.

CONCERT ($20 / $10 students): Held in the church sanctuary.
Purchase tickets online, in person at The Booksellers at Laurelwood,
or with cash only at the door.